Not a hypocrite, so do not expect me to get angry
Posted 1 Feb 2017 by Walaa Idris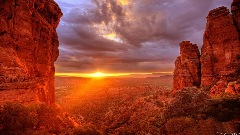 Next week I am bringing my 82-year 'young' mother to Arizona, USA to spend some time with her son, my wonderful brother. We plan to stay for a month, because we don't know what effects the long flight (9 hours without boarding and waiting time) might have on her. In 1996 my mother lost the function of her kidneys, but luckily in 1997 she received a transplant. That kidney lasted longer than the expected average of 10-12 years and stop working two years ago, so now she is on dialyses three times a week, other than that she is healthy, mildly active and have the determination of a bull. Our trip has been planned months ago, and we have all insurances and medical arrangements in place. Mum was born in 1935 in Omdurman Sudan. But has been living in the U.K. Since 1992 and is a British citizen. We both have valid ESTA visas to enter the USA.
Last week's news gave us a slight wobble, because the Sudan is one of the seven counties on the 90 days US Travel Ban. Thankfully, due to the UK's relation with the current US administration and our government's efforts dual national Brits are exempt from the current ban.
Now, if we travel all the way to Phoenix and for some reason border agency turn us back, we will no doubt be extremely disappointed. Because, that will mean no spending a month in the sun in February. For mum, that will mean no painting outdoors, or having a grand time with her beloved son taking pictures, visiting art galleries and open air art exhibitions. For me, it will mean no working by the pool on my laptop in between golfing (my brother's backyard opens into an 18-hole golf course). There will be no practicing yoga daily or hiking in the desert (I grew up in Sudan, so I crave desert heat). It will also mean that I don't get to see my friends, those I planned to spend a long weekend with in California or our mini reunion in Vegas and I might as well forget about that girlie spa break in Sedona. But most of all my brother and I were hoping to relive some of our childhood fun, western riding, range shooting and road trips.
Many are surprised I am not angry about this ban. I would if I was a hypocrite, but I am not. Not going or being turned back is an inconvenience and a huge disappointment I can most definitely do without, but I can't in all honesty get angry about it.
Here's why. I love the US. I spent my best years there and build some long and lasting friendships. It is the place where I cut my political teeth and learnt political campaigning. It's where I learnt about democracy and understood governments are changed via the ballot box not tanks and a military Coup d'état.
America is a free country. Americans have the right to elect who they want, make the laws that suits them and secure their borders the way they see fit. These are the rights and freedoms I value and respect. I cannot therefore abandon them just because on this occasion they affected me unfavourably!
Whatever happens next week, no matter the outcome I will take it in the chin. Why? Because I am a democrat and not a hypocrite.
Categories: US Travel Ban , US Politics
Commenting is closed for this article.