My review of Iain Dale's The BlogFather
Posted 4 Jan 2013 by Walaa Idris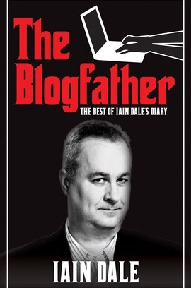 Last night, I finished reading The Blogfather, the best of Iain Dale's diary and a collection of his Greatest Hits. As an avid reader and devoted follower of the blog, this book is a treat. It has all my favourite posts plus some I missed or forgot about.
Like many of the blog followers, I was saddened by Iain's 2010 decision to close his Diary for the megablog Dale & Co. I bought the book online a couple of days before Christmas and received it the day after Boxing Day. Perfect timing for me, but very bad timing according to my family, who complained that they did not come all the way to watch me bury my nose in a book, I agree with them, except the book was impossible to put down.
And although it is a collection of previously published posts the material was familiar but still had an element of newness about it. You will understand what I mean, if you compare it to watching a good movie a second, third and a fourth time…., and every time you watch it you see something new. Page after page the book is full of juicy nuggets, when rereading them memories vividly come rushing and take you back to when you first read them. Then there are those AHA moments. Like in December 2005 when he wrote "If the Lib Dems had any sense they'll pick the newly elected MP Nick Clegg to take over from Charles Kennedy." It took the Lib Dems two years to get there but they did and Clegg didn't just save their bacon, he put them in government. Or in 2007 when he asked a Tory MP, he was visiting, why he is reading the book "Young Stalin" the MP replied 'So I can read the mind set of Gordon Brown' – was that MP Greg Hands buy any chance? I have many favourite blogpost some made me chuckle out loud and others tugged at my heartstrings. Iain's writing can sometimes be very raw but it is always authentic and from the heart and the book shows that in abundance. I always love it when he goes off on one, like in 'HOW DOSE PC WORLD STAY IN BUSINESS' and when he tells it as it is 'WHEN IN ENGLAND …' but my personal favourite has to be 'KILLING TIME' first because it had all the elements, the ranting the humour and Iain just being Iain…., my second reason is personal. My dad and best friend passed away in June 2008 his birthday is on October 25, reading that post on the first birthday after his passing, was special because it lightened the day even if it was for a little while.
The Blogfather covers Iain's blogging history from 2004 to 2012. It is a record of how one man took blogging form 'graffiti with punctuations' and the pastime of nerds in pyjamas sitting in their parent's spare room, to an art of literary expression and verbal liberation. I make no secret that he inspired me to start this blog; I hope this review inspires many to buy the book and those thinking about blogging to begin a blog.
The BlogFather is published by Biteback – ISBN 9781849544610- cost £12.00
Categories: Book Review , The BlogFather
Commenting is closed for this article.