Posted 11 May 2015 by Walaa Idris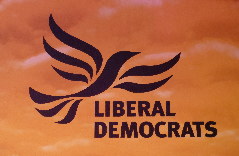 Five years ago, when everybody agreed with Nick, our nation's economy was worse than that of Greece. Our debt piled high and we were broke. The Conservatives had the largest majority but not enough to govern with any certain stability. So the Liberal Democrats selflessly stepped up to the plate, and for the national interest formed the first UK coalition government in almost a century. For five years, both parties compromised a number of their own manifesto pledges for raison d'état and to maintain a secure and stable government. The partnership swiftly began repairing the damaged economy and succeeded in bringing our nation from the brink of collapse.
Five years later, as we saw on Thursday the majority of voters liked what the last government did. And approved what the coalition government had achieved. So, why did one partner of the coalition succeed with a majority though a slim one, and was given the mandate to govern alone and the other was almost wiped out?
Is it because they compromised some of their manifesto pledges? But both parties did. Is it because they went into coalition with a party they regarded as an opponent? Again, both parties faced disagreement from their members and voters against the decision to go into coalition ….
So what went wrong? Why were the LibDems punished so badly for doing the right and honourable thing?
We Brits are humble, caring and loyal people. We might not always show affection, but we are very loving in our own way. It might sound like I'm going off topic here, but I have a point to make. Let's take Ed Miliband and why he didn't sit well with many people. He might be a little awkward, but during the campaign we saw he's a decent fella and learnt that he's a conviction politician, and we know there aren't many of those around these days. By the end of the campaign, more people warmed up to him and his personal approval ratings improved. However, the one thing he could not and will never shake off is what he did to his own brother. And, although we Brits are rather private and don't like confrontation and many won't openly say it, but privately many feel they cannot trust someone who publicly went against his only brother in this way – because that behaviour displays a level of alarming self-love.
The Liberal Democrats did a similar thing. While they and the Conservatives are not blood brothers, they made a deal to work as one team. Everybody knew and to some extend understood for the coalition to work compromises needed to be made. That is why many were very surprised Libs leaked a number of private negotiations and behind the door conversations for the sole reason of making themselves appear as the more moderate of the two partners and the ones that cares the most.
That did not sit well with the electorate.
The sad thing in all of that is many of these conversations will sooner or later come out in biographies and make their way into historic books about that period. And, while at the start of the parliament they (LibDems) were seen as selfless patriots, by the end some of their behaviour reduced them to self-serving opportunists.
In Britain as much as we value loyalty we strongly scorn disloyalty.
Categories: General Election 2015 , Liberal Democrats
---