Brexit is here to stay
Posted 10 Nov 2016 by Walaa Idris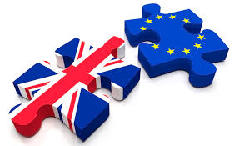 Guess I am lucky in that my side won the referendum. Last June I voted to Leave the EU and unexpectedly found myself on the winning side. It was sweet and delicious. On the night, for all of three seconds, I did gloat a bit, but it didn't last long. To starter with, it took time for our own win to register, and secondly I didn't have the heart to celebrate when most Remainers in the hall were beside themselves with grieve over the results. Many were in tears and hysterical with shock. I simply could not carry on enjoying our win, when boys and girls my daughters' age wretchedly sobbed at the same result. It didn't at all feel right to be jubilant when the others were so miserable, after all, they are my people too.
On the night of the Referendum I was a count agent. That's how involved I was with Brexit. For months, I spent my spare time leafleting, knocking on doors and ringing voters. On the day, after spending the afternoon and evening getting out the vote, I went to Kensington and Chelsea town hall for the count. At around 5 o'clock the following morning I left feeling victorious and full of hope for a brighter and stronger future. I was sure by then that our side has won, but was still shocked when it was confirmed and very saddened when David Cameron resigned that morning.
So, I hear you ask why is she sharing this now? I am doing it to make a point. Leave winning the referendum was not just a stroke of luck. We, Leavers worked very, very hard and most of the time did it with little or no resources. As a political activist who when campaigning for the party money was rarely an object. I saw first-hand how frustrating it can be to run an important campaign on a shoestring budget. Shoestring by comparison to having a mighty government machine behind you. Still, it was all worth it.
Working in the Vote Leave campaign has humbled and taught me passion and conviction are a currency to rival all currencies. We might not have had Whitehall to back us, as cliché as it might sound, we had a huge appetite and strongly believed in our cause. We unequivocally trusted (and still do) that the UK is better and stronger outside the EU. We had no doubt that we rather go it alone and take full control of our laws, borders and decision making. People all over the world understood our fight. They respected it and us for swimming against the trend. They saw Brexit as the will of the people, the voice of the ordinary man and woman, and admired us for it. They saw in us what we saw during the Arab Spring – the voiceless fighting for a voice.
Brexit and leaving the European Union is not being misguided. On the contrary it is being bold and brave. It is being full of hope and optimism for Britain and wanting what's best for her. It is not being afraid to go for what we want. It is being respected and admired for fighting for our values and now even copied and emulated with the election of Donald J Trump. Our desire to run our own affairs from the inside, with little or no interference from Brussels is applauded.
We have nothing against Europe, we love Europe, but not the EU and everybody saw and understood that.
However, if you listen to the Blairs and Cleggs of the country, Brexit is nothing but a disaster. A huge mistake, an injustice inflicted on the country by the ignorant and the uneducated. Perpetrated by the Riff-Raff who don't know what's good for them. Thus, it must be challenged in the courts and if possible reversed. Yes, reversed! The will of the majority reversed because the elite minority do not agree with it! Does that remind you of anything or anyone? It does me. I grow up in an autocracy where elections were won by 99.99% and those who openly did not accept the outcome were thrown in prison. Are we there yet? Of course, not, but the hypocrisy and disrespect to democracy are not dissimilar.
We're in November now. The referendum is five months old. Five months seems like a long enough time for the grieving to have subsided somewhat and for the healing process to begin. Can we now put our differences behind us and focus in what unites us? Regardless of what any side thinks or wants, the country voted to leave the EU. The process of leaving is lengthy and rigorous. In my opinion, all energies used in attempting to reverse Brexit are wasted, because we are leaving.
We have until the end of March 2017 to trigger Article 50 and start the official process of vacating our seat. Brussels wants us to get on with it. They are as good as waving us goodbye and want the whole thing finished as soon as possible. The rest of the world does too. Our economy and currency need it as well. Yet, the Blairs and Cleggs of the country still can't accept the democratic outcome!
My questions to them and their cronies, you say you care about Britain and want what's best for her, then when are you going to put your hand on ours and work together to create the strongest Brexit? When will you realise that time wasted in fighting the inevitable is counterproductive and will only damage the UK?
We all want what's best for our country, together we can achieve it.
Categories: Brexit , UK Politics
Commenting is closed for this article.