My pick for Conservative leader and our next Prime Minister
Posted 13 Jun 2019 by Walaa Idris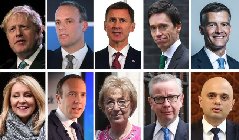 As a proud paid up member of the Conservative Party, I am one of those who will vote for our next leader and PM. I take this responsibility and privilege very seriously. That is why I waited until all candidates launched their campaign. I also took the time to listen and read what they had to say and tried to understand why they want to lead, before deciding who can be the best to lead us at this junction. After considering all, and balancing between heart and head. I think only one candidate stands out form the rest.
Our next leader needs to be optimistic, believes in Britain and her might. They also need to be someone who is ready to hit the ground running. The person to next lead us, must be able to unite and protect our country. Unite it by delivering Brexit no later than October 31, and protect it form Jeremy Corbyn by winning the next General Election with a working Conservative majority. He or she must also be able to work with the outside world and garner support for Britain.
And since this leadership contest we are not electing the leader of the opposition, we therefore, don't have the time or luxury to develop and test an unknown, a fresh new face. We need a statesman, and someone who is readymade for the job. A candidate who becomes Prime Minister from day one. This person, also have to be a Brexiteer. We had a Remain PM and we all saw how that ended. This time we need someone who can deliver Brexit because they campaigned for it, believe in it and can deliver it.
Ladies and gentlemen, the only candidate who can do this is Boris Johnson.
Commenting is closed for this article.