I like Nick Clegg and think he should stay leader to his party up to and beyond 2015.
Posted 14 Feb 2013 by Walaa Idris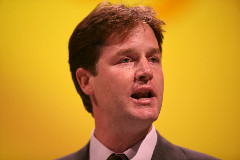 Never since Crewe and Nantwich have I been this excited about a by election, and Eastleigh is even better because it is a much shorter battle. It is also unique in that Libs are a much tougher opponent than Labour in the fighting dirty department (Labour are amateurs when it comes to multi-cell under handed yet legal campaigning). Let's not also forget there is the added pressure of the coalition, while in government Tories and Libs have to work as a team but in Eastleigh the two are rivals.
So if you have never before followed a by – election this is definitely the one to watch.
There is a lot of talk about the Labour candidate. Many don't understand why Miliband picked a high profile candidate in a seat he has no chance of winning? Like everything in politics there are many theories around as to why he did it. When the simple explanation can be he wanted his star candidate to get a campaign under his belt before 2015.
I too have a theory. I think Ed Miliband actually believes he will get the keys to Number Ten in 2015 without having to go into coalition with anyone. He also believes to achieve that he needs to totally destroy the Libs and specially Nick Clegg. Therefore as a distraction to Liberal Democrats voters, he selects a liberal celebrity hoping he cuts into their support thus allowing for a Tories win. He can this way kills two birds with one stone, damage confidence in Libs specially Nick Clegg plus of course shake the coalition. Because Liberals holding Eastleigh = A Disappointed Tories + A Strong Nick Clegg and Liberal Democrats.
I want us to take Eastleigh, but will not be remotely disappointed if the Lib Dems hold the seat, and would love it if Labour comes fourth behind UKIP.
Categories: Nick Clegg , Eastleigh By - Election
Commenting is closed for this article.