Why, why and why not!
Posted 24 Jan 2011 by Walaa Idris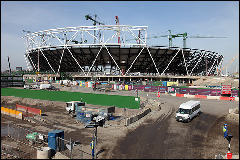 Last night on my way back to London, I passed by the Olympic Stadium – it is taking shape and looking really good – which got me thinking. Although I'm not a seasoned football fan or even an avid follower of the Beautiful Game – however, if pushed or forced to make a choice – I'll side, albeit superficially, with the Blues and my football home will be in Stamford Bridge. Not because I live in West London or understand the game – but because my late father was a huge Chelsea fan and I almost always love everything he loved.
Nevertheless as a Londoner and an opinionated one at that, I can not escape having an opinion or actually in this case a bewilderment as to why on earth does Tottenham Hotspur want to demolish a perfectly and expensively built state of the art athletic stadium, ship some of it half way across town because they don't have the money or the means to built their own!?
Or why DIDN'T the Olympic organisers before hand and before spending millions, plan what was going to become of the stadium after the 2012 Olympics?
Plus who's the genius who allowed this to happen, gave it the green light to go ahead before knowing and finalising the stadium's fate!?
As I said before, I'm not a big soccer fan so some basic fundamentals might have escaped me – but I still feel the whole thing was done hastily without any proper organisation or some basic long term planning.
In light of this we might as well just sell the Olympic Stadium like we did the Millennium Dome, recoup our outlay in it, and keep it as a legacy and an investment in East London. Maybe someone should start talking to the Qataris; they seem to want to own everything London these days!
1 comment(s)
Commenting is closed for this article.