Posted 9 Jan 2016 by Walaa Idris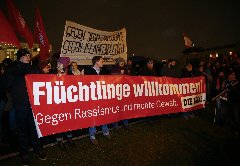 I ask because sexual assault has been used throughout history as a weapon by attackers and invaders to humiliate subjugate and imprison their captives.
Last summer when hundreds of refugees filled boats docked in the Continent loaded with young and healthy men from North Africa and the Middle East many asked: if all the young men are coming to Europe who is staying back to fight ISIL?
Despite that and talk about ISIL supporters and fighters infiltrating genuine asylum seekers to enter the EU, and in spite of the risk and the danger the journey to Europe's shores, Germany opened its doors and unconditionally welcomed all comers. The German people offered their homes, gave up their spare rooms, extra cloth, toys, and books, they opened their school halls and asked the rest of Europe to do the same.
Only six month after that selfless welcome, on New Year's Eve, over one hundred women, while celebrating in the streets of Germany, were sexually assaulted by what was described as Middle Eastern looking men. The streets of the same Germany that opened its doors and hearts in kindness to people they thought were in dire need.
Or were they people in need?
In Islam rape is haram. True Islam condemns all kind of violence without exception. I know many will disagree with me. But as a Muslim brought up in an Islamic country by a Muslim family, I know what true Islam is. This, what ISIL is doing is not what most of us belief. A true Muslim will never attack his or her host. A true Muslim will show gratitude. Sexually assaulting random women on the streets of the country that opened its doors to you and housed you in your hour of need is not gratitude.
That is why I suspect earlier intelligence that said 'ISIL fighters managed to infiltrate refugees to gain entry into Europe' to be accurate.
Rape is a vile crime, and comes from a dark place were the attacker is hateful. So far everything ISIL did to fellow Muslims and non-Muslims is hateful and vile. So is it too farfetched to think they might use sexual assault as a weapon?
Categories: ISIL , Refugees Welcome
---