Posted 18 Nov 2015 by Walaa Idris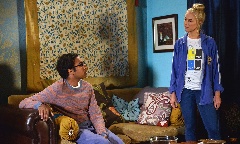 Last week's Paris attacks were attacks on freedom, liberty and civility. And, though these barbaric and dreadful attacks were carried out by Muslims they do not represent or reflect the beliefs and feelings of the majority of Muslims.
But most of all those attacks are un-Islamic.
Despite of what the likes of Daesh, Al-Qaeda and Boko Harm portray, Islam is a religion of peace that teaches harmony, love and equality. In times like what we are experiencing now, it is paramount for Muslims to speak up against the atrocities wickedly carried out in the name of Islam but also openly speak about the true meaning of Islam.
Surprisingly, on Monday night, EastEnders (a popular long-running BBC weekly soap) beautifully highlighted the true meaning of Islam during that night's episode. Now, while EastEnders is not your typical platform for religion education, it has a long history of sensitively addressing social issues. On Monday one of the characters Tamwar Masood played by Himesh Patel, explained to his girlfriend Nancy played by Maddy Hill what his favourite passage in The Quran meant.
"Do good to relatives, orphans, the needy, the neighbour who is near of kin, the neighbour who's a stranger, to the companion at your side, and to the traveller." He then added: "That to me is what Islam is about. Be kind to people, family and strangers alike, and love them."
To Muslims, those words are not particularly revelatory, but the scene, its timing and the words are a very subtle reminder of the views shared by the majority of us. They also offer comfort at a very uncomfortable time, at a time when the religion is used as an excuse for barbaric attacks – and peaceful Muslims are wrongly targeted.
My thoughts and prayers are with those who lost their lives in Friday's attack and their loved ones.
Thank you EastEnders!
Categories: EastEnders , True Islam
---