Posted 27 Aug 2016 by Walaa Idris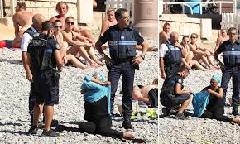 The west is known for its tolerance and acceptance of others and their values and believes. It is for that reason those fleeing oppression and prosecution choose refuge in a western country over a safer neighbouring state. Most who make it this far tend to reciprocate by obeying their adopted home's laws. They willingly respect the traditions and the general sentiments and values of their host nation. To many migrants, the freedom and the self-worth, they gain by moving west is their biggest and most valuable achievement, and they tend to guard it with everything they have. Because in most cases it is a dream they worked hard and long to reach.
But of course like with most things in life, there are a few exceptions and they should be regarded and treated as such.
I believe in the saying "When in Rome, do as Romans do!" Because harmony can only be archived when two sides meet in the middle. That is why I have a problem with some of the appeasements and allowances I see today. Tolerance and acceptance are one thing, but shifting the balance to one side at the expense of the other causes disharmony, which breads resentment and ultimately unrest.
Not only that, sometimes 'progressive' appeasement goes as far as endangering the majority to pacify the minority. That might sound a little OTT, but ask yourself why are bikers, for security and safety of others, banned from wearing their hamlets in many public buildings? Yet a burka wearing woman is allowed to drive a car, go shopping and enter any bank?
In our current security environment, Europe and the west should ban all types of face cover from being worn in public. Same as bikers are not being allowed to enter buildings or a public space with their face covered, the same should apply to women. Observing women can wear long garments, cover their whole body and hair but not their face – because face cover disguises the person's identity.
We are at war today with an enemy that will stop at nothing to deeply hurt us. Therefore, protecting the majority at the inconvenience of the minority is a measure we should welcome and support. Unlike some people, I am not going to cite what they do to women in Saudi Arabia, Iran or Afghanistan nor I am going to say "they force our women to cover up so we should ask theirs to ……." Why? Because we are better than them. We are civilised, empathetic and accepting. Because they look up to us and copy us not the other way round.
That is why this week I was horrified and embarrassed by the actions of the French police in Nice. To see four clothed gun currying policemen standing over a woman, forcing her to undress in the middle of the beach…., was incredibly shocking.
I understand France and particularly Nice is hurting. I also understand that hurt is still raw. Yet, as a civilised, evolved and cultured society, the sight of four armed men with the weight of the law behind them, standing over a woman and ordering her to undress in public was crass, barbaric and lacked civility.
Seeing that image, I asked myself – why didn't they just arrest her? Why didn't they treat her like any other lawbreaking criminal by removing her, in handcuffs, from the beach!?
Categories: Nice Police , Banning the Burka
---