Posted 19 Mar 2016 by Walaa Idris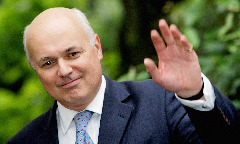 Neither shocked nor surprised but incredibly saddened by Iain Duncan Smith's resignation. Besides being a formidable social reformer and the last former Conservative leader in this cabinet, by losing him the frontbench has lost a very important voice in the Eurosceptics camp. With him gone from government, even after suspending collective responsibility, the scales are now tipped towards the Europhiles' camp, thus making the government unbalanced. At this stage of the campaign, tilting the balance either way is unfortunate for both the government and Britain.
On both sides of the political divide people are saying IDS resigned "because he'd get sacked after the referendum" or "he quit to fight for the Out camp" or in some outrageous cases "because he is ashamed of his own reforms" all are wrong assumptions, all gravely misunderstand the man.
In my humble opinion IDS resigned from his post as Secretary of State for Work and Pensions because as a compassionate and principled Conservative reformer he had enough. He stepped down because he felt his reforms – which are designed to protect the poorest in the society, and put social justice at the heart of political policies – were yet again mistranslated. He left because he found it unjust to keep burdening the younger generations to appease pensioners and the middle classes and because he could not assent to tax cuts at the expense of the most vulnerable in the society. Of course savings need to be balanced. However, as compassionate conservatives and all of us being in it together; balanced cuts cannot be at the expense of the most disadvantaged in the society.
His reforms aren't the problem; the problem is where the savings come from and where they are used.
What I find puzzling is government members expressing their puzzlement, and after all these years of working with IDS not understanding him and his vision of matching funding and spending decisions with social reforms!
After six years as the head of DWP, Iain Duncan Smith left a remarkable legacy which consists of changing the incentives structure and a reformed simpler and fairer welfare system that in a short time saw historic increases in the number of people in work and fewer than ever before children living in workless homes.
That is an awe-inspiring thunderous legacy to leave behind.
Categories: Iain Duncan Smith
---