Posted 30 Jun 2016 by Walaa Idris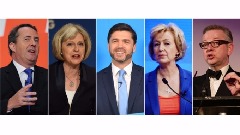 Dear Conservative MPs,
A week ago our country voted to leave the European Union. This momentous event was bitter sweet; just as the majority of Britain was celebrating democracy our leader and the Prime Minister of our nation resigned and triggered a leadership election. Unlike his own leadership election in 2005, this time for obvious reasons the election is run on a very tight schedule. The country and its economy need stability and surety hence the short campaign. However, we can efficiently achieve both in the timetable set while fully involving the membership.
As it stands, members have no input until the final two are selected by you, our elected representatives. In 2005 that was fine. However, today in 2016 this is a potential challenge. Grassroots who pound the streets, stuff envelopes, hold gardens fetes to raise fighting funds and travel the width and length of the country to get you elected will not stand for it.
We don't need to look too far to see the fallout of internal political disharmony. A quick glance across the chambers' floor and you will see the Labour party is in disarray due to disconnect between its Parliamentary Party and membership. The PLP don't want their current leader because he doesn't share their vision even though he was elected with an overwhelming mandate. In life we learn from mistakes, those made by ourselves but also the ones made by others. That is the purpose of this letter.
The next leader needs to unify both the party and our great union. I am positive I speak for many in the Conservative family when I say grassroots members must have a say in selecting the two finalists. That will be the first step towards unifying Brexiter and Remainers in our party.
My suggestion therefore is for MPs to hold a sounding meeting in their constituencies before the first elimination. By each MP polling their association on whom they want as the future leader, and reflecting that view in the final selection, the final two presented to the grassroots for election will be a truer reflection of our party's membership and not a coronation by MPs.
This move will unify the two sides plus strengthen the position of the newly elected leader by giving them the mandate of an appropriate and comprehensive election. Recently, there has been a growing feeling of disconnect between the membership and leadership, there is a sense amongst the grassroots that power is mostly led from the centre rather than the broad.
By fully involving members in the selection process, the Conservative Party will heed any feelings of disconnect while also bringing closer and empower both sides.
Many thanks for your time
Sincerely yours
Walaa Idris
Categories: Tory Leadership 2016 , UK Politics
---