Thank you Mr Cameron for pledging a referendum
Posted 24 Jan 2013 by Walaa Idris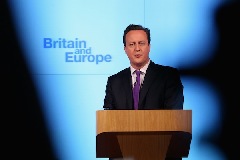 Love the timing, the content and the effect Cameron's EU speech had on everyone form the party faithful to the opposition and everyone in-between. Party poopers might say it won't have happened had it not been for UKIP putting pressure and Tory Eurosceptics rebelling – but who cares? If that was the nudge Mr Cameron needed, then hurray. Both did well. Nonetheless, David Cameron has always been a pragmatic Eurosceptic and this speech was coming one way or another.
Regardless of when the Prime Minister gave the speech, the EU issue needed addressing. Our relationship was/is becoming difficult and at times even toxic. With the economy in turmoil and every nation inside and outside the union is looking for ways to survive and improve for the future – addressing our relationship is part of the collective reforms everyone in the region is undergoing. The EU question might for some be at the bottom of their list of important issues – but when many decisions are still made and governed by Brussels – the cost of these issues becomes very important.
Some people see the speech as a gamble, but I disagree. And here's why. On the domestic front, Cameron has one, pulled the rug from under UKIP – they can no longer goad the Tories on the referendum issue. And two, Miliband's Labour has ruled giving the British public any referendum – some Labourites would like us to believe this 'No EU Referendum' promise is just for 'now' – but I think it is safe to say "Labour Denies Britain a Referendum" has a nice ring to it come 2015.
On the international stage, the US and Obama now know their place. As for Europe, now, they have little choice but to take us seriously, listen to the British people and try to at least meet half way. When it comes to those who think Britain is 'not that important' and Europe will not care if we leave or stay – better think again. We are extremely important, Britain is vital to the union in trade, defence, agriculture and fishery. If in doubt, just check the French's reaction to the speech. The EU and the world know and appreciate our importance, its high time we too know and embrace it.
But most of all, by being on the side of the British public David Cameron has put the Conservative Party and conservatism in a strong position separating it from Labour and the others.
Tory Eurosceptics can now relax and rally behind their leader, after all we have an economy to fix, promises to deliver and an election to win outright and none of that is possible with a disunited party.
Categories: David Cameron , EU Referendum
2 comment(s)
Commenting is closed for this article.