Winners and Losers ~ March 3, 2011
Posted 3 Mar 2011 by Walaa Idris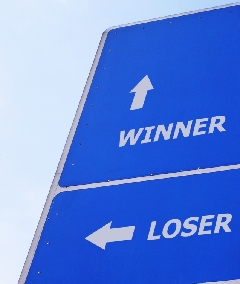 Mandelson is a winner for calling a spade a spade when he pointed out that Ed Miliband was wrong and too quick to criticise his own party. Although it's expected of Mandy (the man has turned the business of going against the grain into an Art) besides it's the truth. But as a Conservatives I wish he didn't draw Miliband's attention to it, at least not yet. Let's just hope the Labour leader is like his predecessor and mentor (Gordon Brown) doesn't listen or take advice from anybody.
I like Nick Clegg and admire his stance with the regard to the coalition and what's best for Britain – in my eyes he's a patriot, and that commands respect. Nevertheless, speaking of an EU policy with regards to the ongoing Middle East turmoil and suggesting that they help build democratic institutions in the fallen states of North Africa and the rest of the region is wrong, wrong, wrong. For starters the EU is not a state – plus why now, why this upraise – isn't there other on going upraises in the region that needs attention!? Sorry comrade but this one you got wrong – this one you lost!
Commenting is closed for this article.