Posted 22 Jun 2017 by Walaa Idris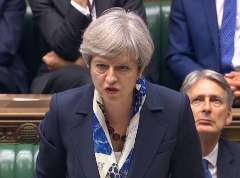 Three weeks after failing to secure the large majority she called the election for, Theresa May took to the dispatch box, and delivered her government programme. Playing to her strengths she was sincere and considerate. She apologised as Prime Minister for both national and local government failings in the immediate aftermath of the Grenfell fire tragedy, and spoke about the different terrorist incidents and our solidarity in facing them.
Her speech had a little of everything, contrition, confidence and even some humour. Watching her take blow after blow from the opposite benches, I was delighted to see the pre-general election May emerge. She handled attacks and support equally graciously and showed she is ready to lead both our country and her party. This was her first test, her second is today when she attends the European Council Summit in Brussels and her major third test comes next week when she faces Corbyn at PMQs. Particularly after his new-found confidence and publicised desire to overthrowing this government by any means possible.
Although, many Conservative MPs, are not yet ready to forget or in some cases forgive the election and its outcome. On the other hand, most Labour backbenchers are not yet behind Jeremy Corbyn. While they, and their media chums might like to flaunt in every opportunity their surprising election results, Tories are still the legitimate winner of the 2017 general election and therefore the ruling party, and Theresa May is still the leader of the Conservative party and the Prime Minster of the UK.
Categories: Queen Speech 2017 , The Tory Party
---