Miliband might be down but he's far from out!
Posted 13 Jan 2011 by Walaa Idris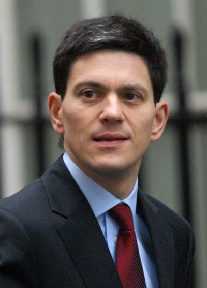 Everybody, in the Westminster Village, seems to be very excited by David Miliband's latest decision. Miliband, the former Foreign Secretary of State, older brother to Red Ed and runner up of the Labour leadership contest, is rumoured he wants to do other things, alongside being a backbench opposition MP, to enhance his – forty something image of a privileged politician who worked mostly in politics since graduating university – credentials!
In my opinion Mr Miliband is clever; he knows that his baby brother will not become Prime Minster, regardless when the election is called. Unlike some in the Labour Party he is not misguided in believing that their current 41% on the polls or the severity of the cuts will hand Labour a victory. He's been in politics long enough to know that after 13 years of Labour, nothing Labour and the Tories do or not do will bring a Labour government next time. Especially as next time is very likely to be 2015 (and on this note someone please tell Mr. Tom Watson MP to get better Tory sources).
What Miliband the elder is doing – to borrow a Tea Party phrase – is Retreat and Reload. He's reassessing and accordingly recharging and that can only be a good thing!
By working on himself, becoming more rounded and diverse not just on paper but in practise he is adding value to his existing credentials. Sitting on the board of a multi-million corporation, teaching kids and seeing first hand what goes on in our schools, then possibly having a media platform with which to deliver his message and to directly affect change, while making more money during it all – what's not to like!
His wife is clearly on board with it all and as his business partner; between them they can easily clock close to 100 hours a week and still maintain a healthy work family balance.
What Miliband is doing is very shrewd. When Labour losses the next election and Ed steps down, guess who'll be ready and waiting, who will be the best and most attractive choice to lead the Labour Party!
Categories: UK Politics , Opinion
Commenting is closed for this article.