Why I mourn Coulson's departure!
Posted 27 Jan 2011 by Walaa Idris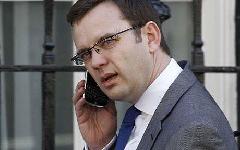 Unlike some parties, we, the Conservatives don't think or believe that we are the masters of everything or we know it all or that we have the solution to every problem. We know that we have a strong ideology founded on common sense and perfected by learning form ours and others' mistakes and short comings. We are not afraid to speak our mind but also unafraid to admit our faults. In our dealings we avoid the personal and focus on the principle plus we never hate those who are different to us or those whom we disagree with.
The Conservatives is the party of everybody, it's the home of all people from all walks of live, creeds and races. We are bankers, city dealers, doctors, teaches, nurses, business owners, policemen, firefighters, shopkeepers and street sweepers. We are rich, poor, working class, middle class and aristocrats but most of all we are proud and united by our Conservatism.
When David Cameron appointed Andy Coulson, he appointed a partner with an eye and heart from middle Britain with his finger firmly on her pulse.
Of course Cameron is a posh and wealthy man and he is married to an even posher and wealthier woman and yes they lead a comfortable live. And even if his late son was in and out of NHS hospitals, he probably never had to serve his kids Tomato Soup with stale bread for dinner because that's all they had till the next pay cheque. But he feels for people like that. However, Andy Coulson has probably lived around people like that. Plus he was the successful editor of a newspaper read predominantly by people like that. So losing him as part of the team is not a loss for the Conservatives but at this point in time it's a loss for the country.
Coulson's appointment goes to that inbuilt need of understanding and the desire to know, learn about and feel (even at a fraction) what and how the other side feels. Something many on the left do not care to know because their core votes comes from those who need to stretch that can of Tomato Soup till the end of the week – and because they feel vindicated and superior by it.
I am an immigrant, black and a single parent, in other words a perfect Labour voter – did anyone in Labour ask themselves or try to find out why someone like me never voted or supported Labour!
2 comment(s)
Commenting is closed for this article.