Posted 10 May 2013 by Walaa Idris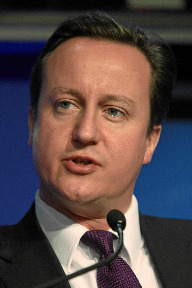 After UKIP's serge and the Conservatives less than brilliant performance in the County Council elections earlier this month, I think I now know why the Tories are in trouble.
It has nothing to do with toffs, Etonians and the rest of it. Also my concern here is not with Labour, the LibDems or even UKIP, what they did, are about to do or not do. It's with my own party whom I see again sleep walking down the self-destruct road.
This might sound unconventional. But from where I am standing, we have three major problems that need addressing if we want to be taken seriously and win the next election.
The first one is easy. We need to talk and listen to each other, do it regularly and remember we are a broad church and that is one of our biggest assets.
I don't know how we can quite achieve it, but our internal communication sucks and needs to change. We need to take the focus off being on message and put it on being connected and in tune with each other. The type of in tune when one begins a sentence the rest know where that message is going. Once we achieve that sense of togetherness and unity the second point will easily follow.
Next we need to get our mojo back. We need to get back that late 2005, early 2006 feeling when we first elected David Cameron. Get back that winners feeling. There is nothing wrong with winning and wanting to win. Yet we keep talking about losing and dress it up as being realistic. Realistic my foot!? Two years before the election we write ourselves off and call it realistic. No, that's defeatist and pitiful.
We need our excitement and that sense of winning-ness we had about us back.
Dave is still the same 'Blue is the new Green' 'Huskies drawn sledge' 'A List' guy who will control, monitor and reduce immigration, and repatriate powers back from Europe we loved and admired so much before 2010. We need to think like a family and find a way to love him same as we did back then. Think of our relationship like a marriage we are a little bored with and even not too happy in but we badly need to work and strive at making it succeed.
The final thing we must do is to just stop wanting a new leader, period. Call it killing ambition, lack of vision whatever you like, but all this wannabe leaders are killing our party and if not careful they will soon be leading ghosts in a morgue. They are killing us with their arrogance and selfishness, and it needs to stop.
We need just this one time to accept what we have better and build it up.
Trust me, we have the best leader around, if you don't believe me then believe the polls. He is the best leader for the country and our party. He is the best leader out of all the other parties' leaders. Believe me when I say there is no one out there better than David Cameron for this country and the Conservative party.
Categories: Conservatives , David Cameron
---