Winners and Losers ~ April 26,2011
Posted 26 Apr 2011 by Walaa Idris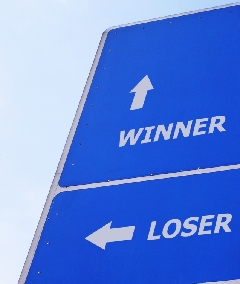 The winner HERE is Mark Pritchard MP- the secretary of the Tory backbench 1922 Committee – for pointing out to Nick Clegg and Chris Huhne that they never had it so good and should stop their whingeing. He has a point, because the way these two have been behaving is a disgrace to them, politics and their party. They knew from the start the Tories did not want AV and were going to fight tooth and nail for a No vote – even Cameron, like the majority of the his party has said very early on that he will be campaigning to keep the current (First Past The Post) system. For Clegg and Huhne now, to act mortified is rich and very disingenuous, and they should be careful not to over do the poor me act.
Wikileaks "the gift that keeps on giving" has a leaked document HERE radicalised-in-London-to-attack-Western-targets.html written by senior US military commanders at Guantánamo Bay – where at least 35 detainees has passed through British soil before being sent to Afghanistan to fight and kill our own soldiers – they illustrate how, for two decades, Britain effectively became a hub for terrorism training, with dozens of radiclised extremists – both homegrown and from abroad. It was happening right under our noses in mosques and Islamic centers up and down the country. Thus raising the question, why did the Government and the security services (today's joint loser) failed to take any action to tackle this issue sooner? And more to the point what are they doing now to stop and prevent any further schooling and safe guard our capital from becoming a staging post for terrorism!
Categories: Winners & Losers , Opinion
Commenting is closed for this article.